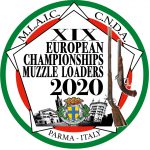 Dear All,
First of all, I hope that, when you receive this email, you and your families and friends are in the best of health.
Well, the deadline fixed has been reached and a decision has been made by the responsible people of the CNDA.
Enclosed please find the letters of the Italian organization (in English and in Italian) where they inform us about the cancellation of the European Championships which should be held in Parma/Italy during the month of August this year.
Unfortunately, a transfer of the same to a later period (autumn 2020), which could have been an alternative, has also not been possible.
I, personally, can imagine that this was a decision which was not easy to make. However, it is most probably the best solution for the time being.
A lot of our shooters are meanwhile in an age that is currently called "high-risk group" and I believe we have to recognize that the pandemic is not yet over!
Thanks god, due to a lot of drastic measures, in many countries the numbers of new infections are decreasing, however, no one knows when there will be vaccines against this virus and when this nightmare will be over.
Therefore, the CNDA decision is, for the time being, the best thing they (we) could do.
Let me, at this point, express my sincere thanks to the Italian organization team, namely to Antonio and to Mario, and of course to all the others who have so far been involved in the planning and in the preparation of the championships. They had a lot of work which, at the end of the day, has been destroyed by a virus. I can assure our Italian friends that their work is very much appreciated.
We shall, of course, keep you informed about the way things will be going in the future.
For the time being, we shall wait and see how things will develop.
To you and your families and friends, all the best from my side.
Stay healthy! 
With best regards,
Gerhard