Mark Hambleton 1966 – 2022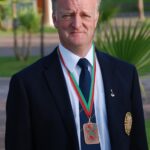 It is with great regret that I have to inform you that our friend Mark Hambleton passed away a few days ago.
Mark was not only a member of MLAGB representing the British colours during various international championships. He also gave support to the Small Arms Committee of MLAIC.
Knowing almost everything not only about British military firearms, he had also a very comprehensive knowledge about those of the Napoleonic wars, about the French Indian wars, about the American civil war etc. One could always ask him for help and for advice on these issues. The MLAIC as well as the MLAGB have therefore lost a very valuable adviser and friend.
But also as a muzzle loading shooter he was quite successful. Once he acquired his first Brown Bess in 2006, he started shooting with it and, at the same time, started to optimize his shooting skills. The first successes did not take long to wait for. In 2016, during the World Championships in Hungary, he was part of the successful British team winning the Gustave Adolph and the GP of Versailles team events.
He could have achieved so much more, but a very aggressive cancer has finished his life.
Our deepest sympathy goes to his wife Amanda as well as to the whole family.
We, the MLAIC family, shall all honour his memory.
For the MLAIC
Gerhard Lang
Secretary General